In Loving Memory...
dedicated to our loved ones who are watching over us from heaven...
Donald Suhor, passed on Jan 27, 2003

Christian, Donald, Bridget "Babbs", Nicholas and Donna Marie
January 27, 2003
My brother, Don Suhor (>Anthony>Antun), died at 1a.m. this morning at the Hospice Unit of Mercy/Baptist Hospital in New Orleans. I had spent time at his bedside last night and Saturday, as had his wife, his sons, and siblings Ben and Mary Lou. Ben was with him when he passed. He had been comatose for about three days but he seemed to react in small ways to our words.

Thanks to all of you who sent prayers and positive energies during Don's illness. Also, the reactions the benefit jazz concert and fund were deeply appreciated. Don was quite an artist--always playing brilliantly, with no signs of self-promotion. With him, his family and the music and religious devotion were what counted.

A memorial service is being arranged for Thursday or Friday. Watch the Picayune, and I'll try to send a note as well.

Best, Charlie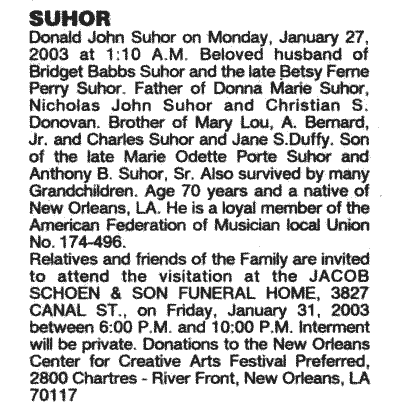 FROM THE TIMES PICAYUNE - Jan 31, 2003
Jazzman Don Suhor; played sax, clarinet
Friday January 31, 2003
By Keith Spera
Music writer - Times Picayune
Don Suhor, a versatile alto saxophonist and clarinetist whose 50-year career epitomized the life of a working New Orleans jazz musician, died Monday of cancer. He was 70.
Rarely a headliner, Mr. Suhor worked "the grind," playing jazz brunches, hotel lounges and so-called tourist clubs, the bread-and-butter gigs that didn't lead to fame or recording contracts but allowed him to support his family as a musician.
"Lots of locals didn't know him, but other musicians knew what a great player he was," said jazz bassist Bill Huntington, an acquaintance for more than 40 years. "He was a very learned musician."
Mr. Suhor was born in New Orleans, and at 14 received a trophy from Benny Goodman for winning a local clarinet competition. He counted Goodman as an influence, along with Artie Shaw and other swing players. He also admired Irving Fazola and other locals, and worked with Dixieland bands.
In the 1950s, Mr. Suhor fell under the spell of bebop jazz, considered a corruption of the form by many traditionalists. While studying music at Loyola, he often attended clandestine bebop jam sessions. With a handful of other white musicians, he also joined with African-American jazz artists to defy segregation laws that prohibited interracial bandstands.
After a two-year hitch in Washington, D.C., Mr. Suhor settled into a series of steady gigs at the Sho'Bar, the 500 Club, Crazy Shirley's and the Famous Door, among other New Orleans establishments. In the past decade, he typically worked hundreds of "spot" gigs annually, an afternoon set followed by a night gig and then a late night jam session. After the 1996 death of clarinetist Pud Brown, Mr. Suhor joined the Palm Court Cafe's Friday night band that accompanied vocalist Thais Clark.
Clark credits Mr. Suhor with easing her transition from blues into the vocal jazz she had always longed to sing. "Don Suhor, my man," Clark said. "Anything that I wanted to do when it came to jazz, Don knew."
On Jan. 13, more than 200 musicians staged a benefit concert at the Palm Court in honor of Mr. Suhor. "We had an amazing response from musicians," said Palm Court owner Nina Buck. "It was packed. Don was too sick to attend, but at least he knew we did it for him."
Survivors include Mr. Suhor's wife, Bridget "Babbs" Suhor; two sons, Nicholas and Christian Suhor; a daughter, Donna Marie Suhor; two brothers, Bernard and Charles Suhor; and two sisters, Mary Lou Suhor and Jane Duffy.
A memorial service will be held tonight from 6 to 10 p.m. at Jacob Schoen & Son Funeral Home, 3827 Canal St. Burial will be private.