In Loving Memory...
dedicated to our loved ones who are watching over us from heaven...
Christian Donavon Suhor
Sent in by his brother, Nick on Feb 16: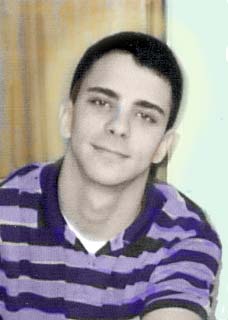 Christian Donavon Suhor, son of Donald John Suhor and Bridget Babbs Suhor, died Tuesday, February 10 in Long Island, NY of undetermined causes. He was 23 years of age. A resident of New Orleans for most of his life, Christian was a graduate of Benjamin Franklin High School. Surviving are his mother, Bridget; his brother, Nicholas John Suhor; his sister, Donna Marie Suhor; his grandmother, Nancy W. Babbs; his faithful four-legged companion, "Joe"; as well as a host of loving aunts, uncles, cousins, and friends.
A small memorial service will be held in Durham, at a date and location yet to be determined. In lieu of flowers, the family asks that donations be made to the Animal Protection Society, 2117 East Club Blvd., Durham, NC 27704, (919) 560-0640. Click below to visit their website.


Chris Suhor's Guestbook at the Times Picayune
To see it, click here.
Family Member Contact Information
(Mother)
Bridget Babbs Suhor
1014 Shady Ln.
Durham, NC 27712-9526


Home (919) 479-0863
Cell (919) 423-7516
"Not going, not coming,
Rooted, deep and still
Not reaching out, not reaching in
Just resting, at the center
A single jewel, the flawless crystal drop
In the blaze of its brilliance
The way beyond."

- Zen Proverb (c. 730)
(Added by webmaster: photo retouching, quote and music)