"Bobby" Robert Gerard Suhor Jr.
(Grandson of John and Loretta
Son of Robert Gerard Suhor Sr.)
...and the Patron of this Website!
August 29, 2006

Hello to All

On this 1 year Anniversary of Katrina Hope All Are Well and Safe!

This morning Angel, my Mom and I woke up with our Health and we feel very thankful. My Family has bin through alot, but not what many families have bin through in the city this pass year and we feel very Blessed. Our Faith in the Lord has truly kept the fear from our household. We are thankful for the roof over our head as many are still displaced and that to make my Family very Blessed for we are together.

I try to hold up your head every day and make someone smile that has bin through so much this pass year that one smile I hope may make that persons feel so much better. I have never experienced any of my Family away in battle, but have seen destruction around me and in our city. And hunger and fear in so many of my Friends Eyes.

To all My Family - hold someone's hand, hug them or even touch them on the shoulder. Let them know that you are there for them, Laugh and Cry with them. Listen to them they may need you more than you think.

It's bin 1 year since I've sat down and thought about what I'd write to All my Family. Well hopefully I've touched a part of all that I've felt this past year. Remember you never should have fear because your Family will be there to ask you what wrong, they can read it in your eyes, they can see it on your face, that what make them your Family.

For now enjoy the changes to the Family web site that Jeff has added, www.suhorfamily.com. Let me know what you think about the changes. Here for you always.

All are in My Prayers,

Bobby
December 29, 2008

Hello to All

We are all sad to see the passing of Benny Suhor.

He was a very kind man and made a deep impression on many people. Benny was a mentor to the Suhor Family. Personally, I would not have built this website if it wasn't for Benny making the famous "Black Book" of family history, genealogy and photos, along with Mary Lou and Charles' help. It was the content we made this site out of.

I will look forward to seeing many of you at Benny's service. If there is any new information you would like to share with this website, let me know. I will be updating this site after the holidays and hope we can all stay in touch through it.

Benny's Guestbook on the Times Picayune/NOLA.com website has been copied onto the Family Talk page and can be found here. Our site's obituary page is here.

All are in My Prayers,

Bobby

BOBBY'S GAMES PAGE
New Games from Bobby for Christmas
Click Here for Free Games...
Surprise Birthday Party
for Dot Suhor
Click Here
Angelle Suhor Becomes 2004 Queen
of the Krewe of Mercury
Pix of Her Surprise Crowning - Click Here

This Email recently arrived from a Suhor Relative...
Bobby - Your Web site is very good. In case you are interested , I have tracked your mother, Dot's, line pretty far back for my own research. I have traced the Walt line back to the 1500's and the O'Rourke line back to the early 1800's. Your mother's parents were Joseph O'Rourke and Loretta Walt. My site does not show living individuals. Click on my Roots Web link here: - John Becker
My Brother Tommy and My Mom Dot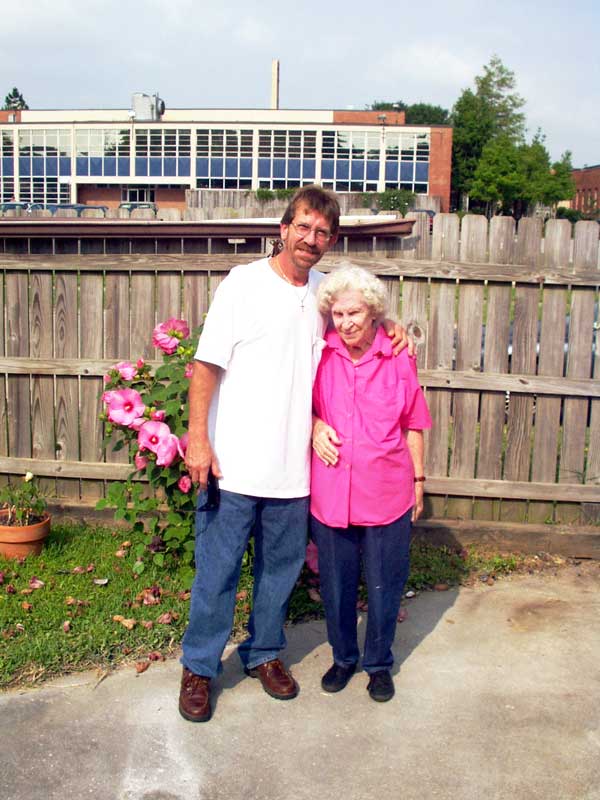 IRISH ITALIAN PARADE 2003
"I have a blast in the parade every year"
EASTER BUNNY$ GIFT$ AT BOBBY'S HOUSE
"Surprised my mother with $20's through $100's hanging everywhere..."
BOBBY SUHOR - BENEFACTOR OF THIS WEBSITE
PS: He's not the one being carried!
"All it takes is to send me a picture or two of you or you and your family with a little blurb about what's going on. Send it in the mail and I'll return it the next day after I make a computer scan." - Bobby
Happy New Year's from the Suhors at Bobby's in Metairie
Btm. row: Bridget, Christine, Trey, Angel and Dot
Back row: Loretta, Bob Sr. and Clara