OLD NEIGHBORHOOD PHOTO GALLERY
Bywater Neighborhood
Bywater (in blue) is the New Orleans neighborhood where our family founder in America, Antun, and wife Jeanne made their home. Anthony, John Sr., Leonie, Joseph, and Frances Suhor were born here.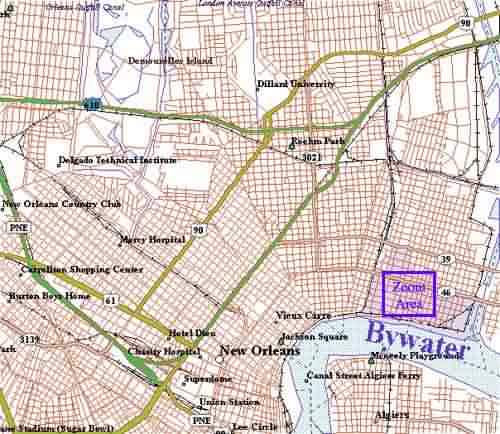 Click on the Zoom Area for Legend of where homes were located in neighborhood...
Zoomed Map of House Locations

Letter Keys mark the locations in Bywater where Antun and Jeanne lived. (Note: The letter "E" is not shown on the zoomed map.)
Stallings Center is a NORD (New Orleans Recreational Department) playground & gym located in the block N. Rampart, Lesseps, St. Claude and Poland. On Poland from St. Claude to N. Rampart being the Old 5'th District Police Station (now an annex for the fire department). The Fire Station and a horse stable for the police department (now sorely in need of repair / renovation IF still usable).
St. Cecilia Catholic Church and School is located in the block Lesseps, N. Rampart, France and St. Claude. On St. Claude residential properties and small businesses with "Shorty's business across the street. The school is facing Lesseps. The Church entrance is on N. Rampart beside France and the Rectory adjoining the church on France. And the interior of the property is a playground for the smaller children with the larger children using Stallings Center.
Click on any thumbnail to enlarge and description:
With respect to the houses:
1124 Lesseps St. midway between St. Claude and Marais on the Uptown side.
1125/27 France St. on the corner of France and Marais Downtown side.
1305 1/2 France St. between (nearer to) Urquhart and N. Villere Downtown side.
937 Mazant St. between Burgundy and (nearer to) N. Rampart Downtown side.
1023 Mazant St. between midway between N. Rampart and St. Claude Downtown side.
Click Here to visit the external website of the Bywater Neighborhood Organization.
Note: Bywater Org. site is sometimes not available...
Use the "Back" button on your browser to help navigate, if needed.