Gerard A. "Gerry" Roth
(Son of Leonie Agnes Suhor and Ernest P. Roth, Sr.)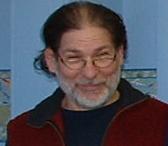 Feb 13, 2004 - "Friday the 13th of February 2004:
My brother Leo and his wife Jean came to New Orleans to spend the weekend of the 13th, 14th and 15th (Friday through Sunday). That Friday we went to The Court of Two Sisters Restaurant, 613 Royal St. in the French Quarter part of New Orleans.
The occasion was a combined celebration of "Leo's and Jean's 15th Anniversary" (11 February 1989) and my (Gerard's) 60th birthday (6 February 1944).
The photos were taken in the Carriageway (just inside the entrance) opposite the Carriageway Bar".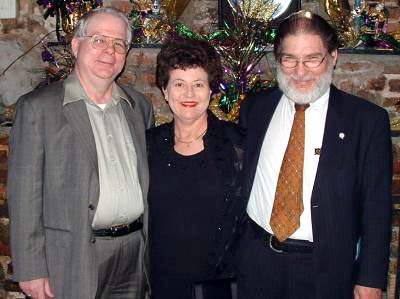 Leo, Jean and Gerard Roth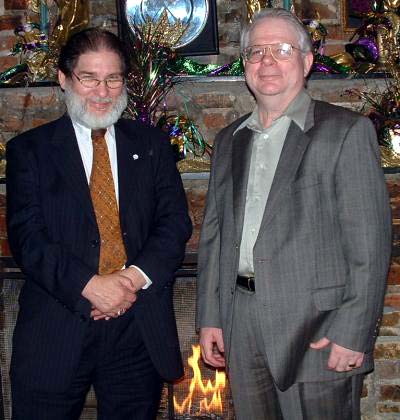 Happy 60th Birthday to Gerard from Leo Roth

Leo and Jean Roth - Happy 15th Anniversary!

Jan 7, 2002
Gerry sent us a picture of some great charity work he's involved in, so we present that picture here, along with his comments...
"I belong to the Blessed Francis Xavier Seelos Catholic Parish based at St. Vincent dePaul Church Conference of the St. Vincent dePaul Society."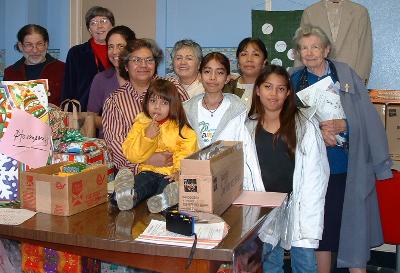 Laura Wallace – 2'nd Vice President SVDP Conference
"Angel Tree" recipient
Mother of the recipients
"Angel Tree" recipient
Barbara Borges – SVDP member
"Angel Tree" recipient (on the table)
Santos Arsenault – President SVDP Conference
Monica Alicino – 1'st Vice President SVDP Conference
Karen Bosse – Secretary SVDP Conference
Gerard Roth (wonder who he is?) - Treasurer SVDP Conference

We sponsor an "Angel Tree" for Christmas and this was the distribution of the gifts received on December the 21st.

The "Angel Tree" program consists of a tree in the back of the church decorated with 5 X 5 sheets of paper, one side an "Angel" the other the information of a needy child; giving the first name, age, sex (donated by the color of the paper: blue or pink), clothing size and a single gift wish of the child. Parishioners wishing to participate will get and wrap gift(s) for the individual (angel) and we in turn will dispense them before Christmas.

The group photo is of the members of the society and one family of the mother and three children.

January 2, 2003
Poking Fun at Gerry
We just kept this picture posted because we had so much fun with it...
Jan. 2, 2003 - In Dec of 2002, we hadn't received many family photos yet for Custom Suhor Family album pages, so we took the liberty of publishing what we titled "The Last Known Recent Picture of our Most Fervent Website Participant in the Family"... Gerry had sent us a very small head shot of himself to correct what we had previously. As he instructed, we added it to his page. (Unbeknownst to him, we "doctored it up" using a movie photo to make him look like Tom Hanks' character from "Castaway".) Thanks, Gerry!
LAST KNOWN
CORRECTED
RECENT PICTURE
OF GERRY ROTH
Gerry's Trip to the Beach
Gerry looks a little sunburned... Thanks for the picture update from Gerry! And thanks for being a good sport - we luv ya! - Bobby